Your wedding day captured naturally
A comfortable approach focused on reliving your best wedding day moments
Remember all the best moments, with a candid approach.
Toronto Wedding Feature
Muskoka Wedding Feature

Enjoy your day to the fullest!
Comfortably journey through your wedding day and have an engaging video that highlights are the best moments.
We don't regularly require your direct attention on your wedding day as it's important for you to soak in the moments as they happen. We will help you pick the best spots for lighting during the morning prep and help you include the people that are most important to you.
As the wedding day progresses we will fade into the background to allow for once is a lifetime moments to happen as they would if we were not there.
We believe this is how to obtain natural results while keeping the video engaging for friends and family. This also allows us to deliver a video that is truly unique to you and something we hope you will preserve for generations.
Awards & Mentions

Common details
We regularly service Toronto, Vaughan, Markham, Newmarket, Georgian bay, Muskoka, Collingwood and surrounding areas.
We offer a comfortable wedding video that is naturally created from your wedding day experience. We focus on a great experience captured by cinema cameras with great audio. Audio allows you to relive your wedding day, not just re-watch it.
Most of our couples need 12 hours of coverage from 10:30am – 10:30pm. We offer 1 minute Instagram Films, 3 minute Same Day Edits, 8 minute Highlight Edits and 16 minute Wedding Features. Click here to view common wedding packages and pricing.
We offer free drone coverage when you have 2 Videographers.
Reviews

Emily and John
There is not any kind of combination of words in the English language that could describe how amazing this video is! It captures the day, our family and friends, and us so well and we could not be happier with it!!! The vows and ceremony sound perfect and clear, and we cannot thank you enough for all your hard work it making them as clear as possible. This video, and all the extras, are something we will forever treasure and we thank you for making this possible!
Thank you, thank you, thank you!!!!
Call Jeremy for availability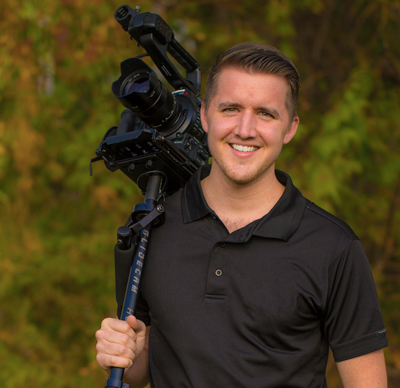 Jeremy Robertson
Lead Videographer
9am – 7pm (Mon-Fri)